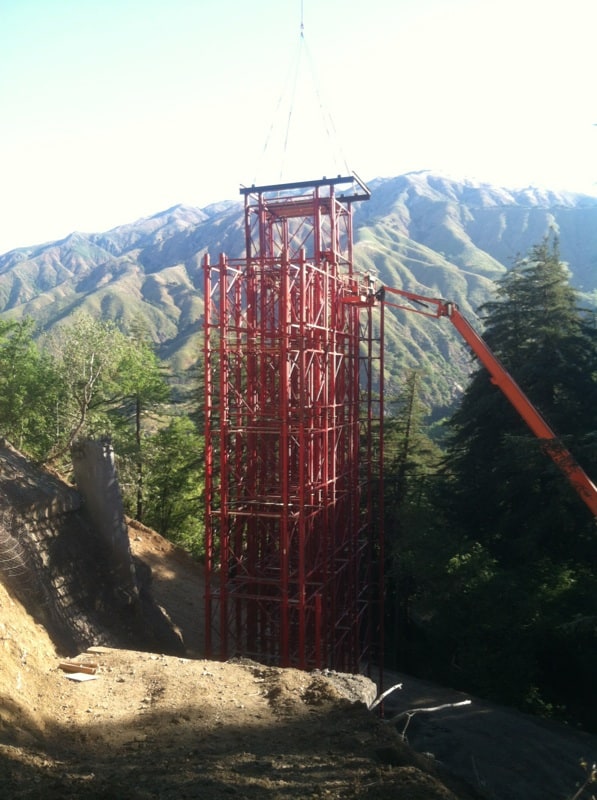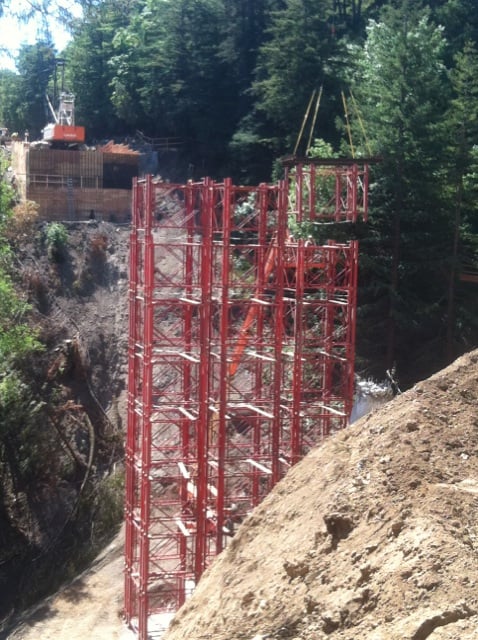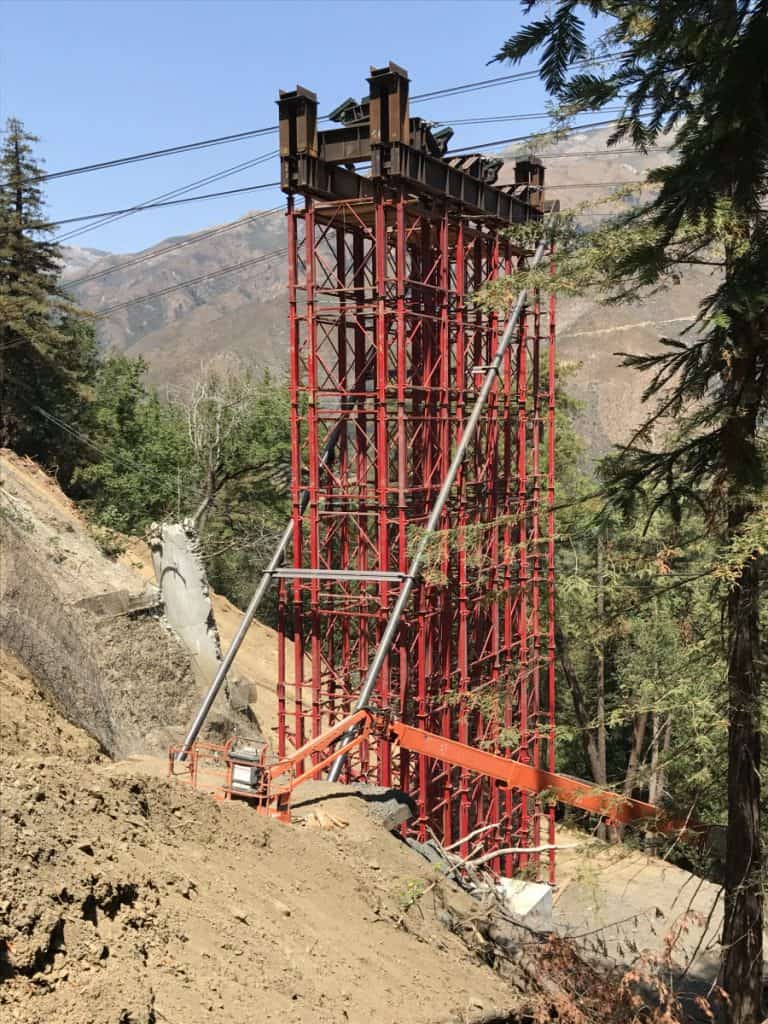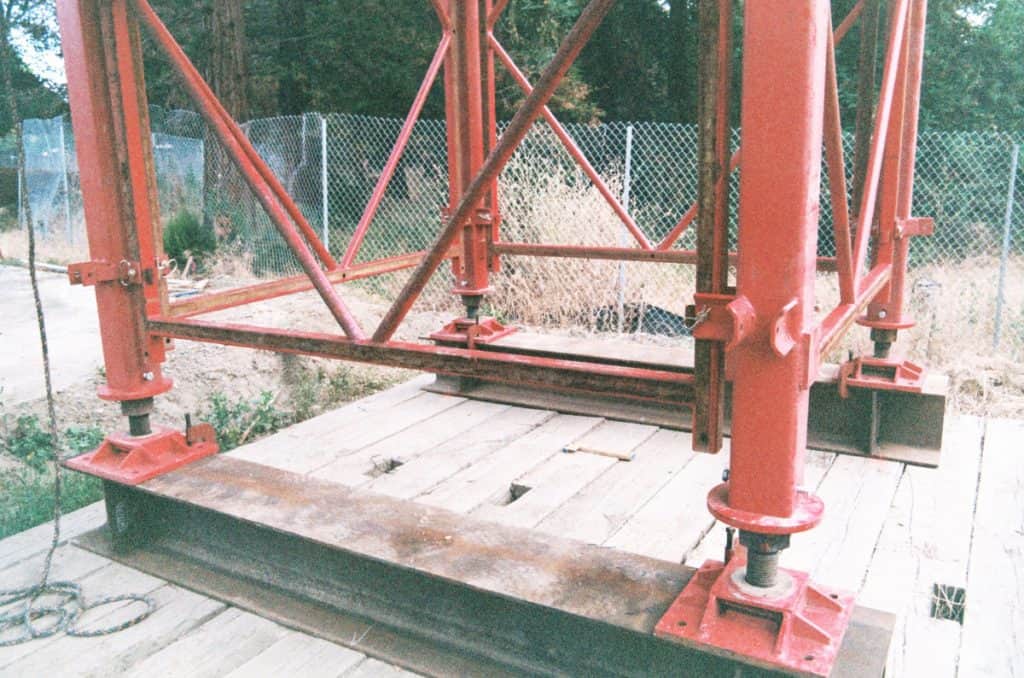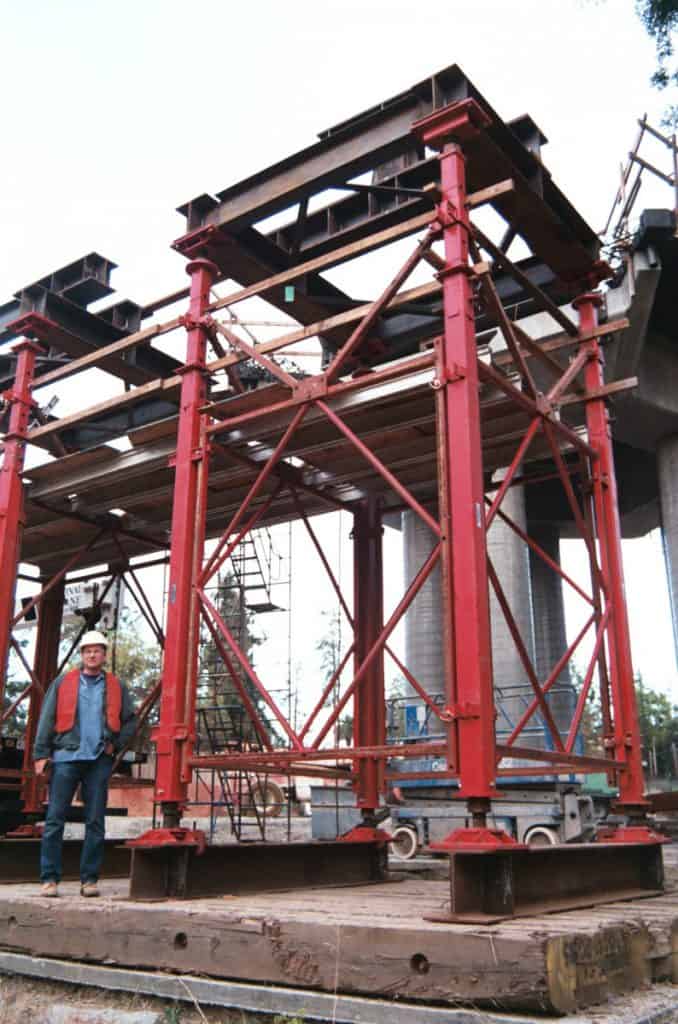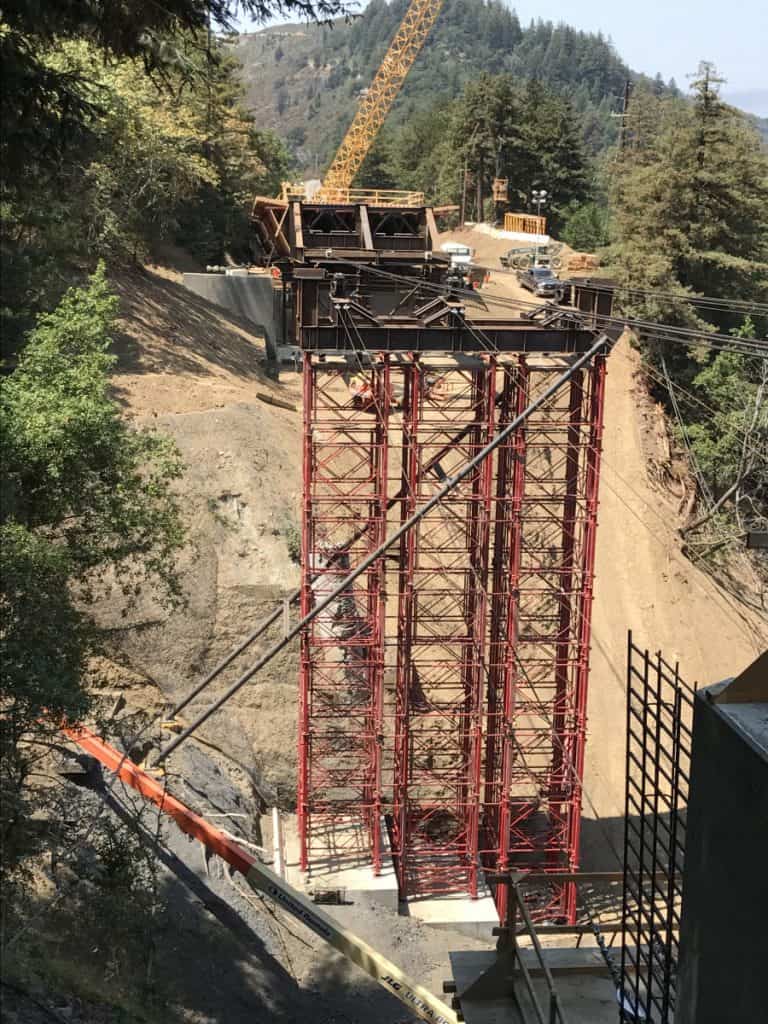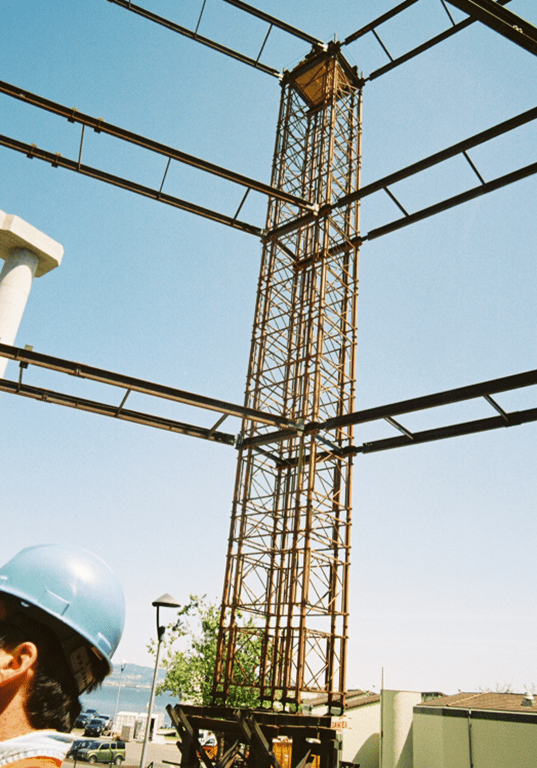 Steel Shoring – 100K/leg
(400,000 pound capacity)
Super Shore-X 100K/leg shoring has a capacity of up to 100,000 pounds per leg with a safety factor of 2.5:1.
The combination of different sizes of legs and extension staffs, affords complete coverage of heights. Also, the independently adjustable staff system permits the use of the full capacity while fully extended and the handling of unusual loading conditions.
The staff braces are required for all staff extensions 3'-0" or greater. It is suggested that they be installed whenever possible.
The staffs used at the bottom of the tower can handle the different ground elevations.
Reasonable differential loading is allowed as long as differential settlement can be avoided. The Super Shore-X system has been designed to act as a unit, the stringer beam must be attached to the top plate of the screw with clamps.
Fine grading and plumbing is possible with the top and bottom jacks who are self centering with acme thread and swivel.
All connections are attached by pins, thus, speeding up the erection process.
Available for rent with delivery throughout the USA and Canada.
Engineering assistance can be provided.
100K per leg
Shoring 100K
Shoring
EFCO Shoring
Pafco Shoring

The 100K per leg shoring equipment has the highest factor of safety of 100k shoring systems due to the leg thickness.The individual legs are bracing are much more versatile to handle and eliminate wide trucks loads and save storage space.The extension staff with jack provides the greatest range od adjustment.
No other 100k per leg shoring can be added to the towers to increase the capacity of the towers.
SEE SIA article on our website Click HERE
Construction Enterprises Inc. brainstormed with SB Structures on how to support the concrete girders during construction. For this project, the rapid erection feature with full adjustments, makes the Pafco 100 kip an ideal shoring method.
[uds-billboard name="Sylvester"]
The old Sylvester Road Bridge was nearly 80 years old and in poor condition. It had cracked columns and girders, worn rails and deck, and an antiquated design that would not have withstood earthquake forces. After reviewing many options, engineers at the city, county, and state concluded that replacement was the most cost-effective solution for maintaining this corridor.
The new 220-foot long, single-span bridge will be slightly wider than the old bridge, with two traffic lanes and a five-foot wide sidewalk. It will look somewhat similar to the old bridge.
The shoring towers consist of ten foot wide frames made with 6" x 6" square steel tubing leg and bracing. The towers extension telescope used on the top to provide adjust up to seven feet and have top swivel adjusting screws. Additional swivel screws are positioned at the base of each frame leg.
SB Structures is a division of Scarcella Brothers Construction Company in Kent, Washington.